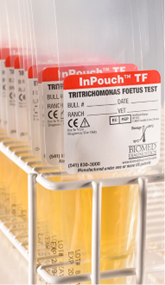 Protect your prize breeders and your herd from the dangers of Tritrichomonas foetus with frequent testing.
Biomed Diagnostics' InPouch® TF-Bovine makes this easy!
The key to a healthy herd is prevention:
A Trich infection can spread quickly and devastate a herd.
InPouch® TF-Bovine and TF Transit Tube, have been engineered to be extremely easy to use, and to provide highly accurate detection.
For over 30 years, Biomed Diagnostic's innovative culture diagnostics devices have been trusted by veterinarians and animal care providers in over 60 countries.
We've listened intently to our customers, building an understanding of what is critical in diagnostics needs:
Accurate
12 month shelf life*
Low cost
Quick result
Ease of use
The success of our Trich devices in the field is derived from rigorous quality standards, years of product development and continued troubleshooting with our customers to refine and design each device to meet their needs. More info at: info@bioadvance.life