Description
BioNote, Inc. of South Korea since 2.017 launched the innovative automated Vcheck system, for quantitative and semi-quantitative diagnosis by means of the Immunofluorescence technique, using Europium as a chromogen for Metabolic and Infectious tests.
It has two analyzers: Vcheck 200 and Vcheck 2400; which differ in the performance they generate when using it. The Vcheck 2400 performs up to 70 tests per hour.
Characteristics
Carrying out Multiple Tests in a single device: Currently there is the most complete catalog of tests (12 related to Infectious Diseases and 13 for Metabolic Diseases), which can be performed with the same device.
Quality: Each device has a Bar Code system that recognizes it, as well as assesses its integrity and validity, so that in addition to the quality assurance program that is in place when making them, complementary controls are also carried out to guarantee better results. reliable.
Handwriting recognition: Recognizes the writing made on adhesive that is on the device.
Precision: The nature of the chromogen and the stability of the components of each device give it a strong correlation with the "Standard Gold" methods defined as a guide for the diagnosis of each Infectious or Metabolic disease.
Brain Natriuretic Peptide (NT-proBNP)
Cardiac biomarker for detection of acute heart diseases in Felines and Canines. NT-proBNP is cleaved from BNP that is produced by the muscle cells of the heart, and its novel increases with excessive elongation of these. It is used to evaluate the amount of stretch of the heart muscle in the following cases:
Detection of Occult Heart Diseases: Prior to Anesthesia, Murmurs, or special breed alterations.
Determination of Cardiac or Respiratory Diseases: When there are respiratory signs without obvious infection, or difference if the cardiac problem is caused by a respiratory condition or by a cardiac alteration.
Determines the severity of a Heart Disease: Helps to Monitor, Stabilize and Predict the effects of a Congestive Heart Failure.
Symmetric dimethylarginine (SDMA)
Biomarker for the early detection of decreased kidney function. It reflects the Glomerular Filtration Rate (GFR) that increases before serum Creatinine when there is an acute kidney injury (AKI) and chronic kidney disease (CKD) in felines and canines.
Follow-up of the patient with kidney disease
El SDMA no reemplaza a la Creatinina, son complementarios en el diagnóstico de la disfunción renal. Cada uno tiene sus tiempos; el SDMA en fases precoces y tempranas, y la Creatinina en fases crónicas.
DIMERO-D (D-Dimer)
D-Dimer is a Biomarker that originates from breaking cross-linked fibrin. It is a specific marker of active coagulation and fibrinolysis. Measurement of the plasma concentration of D-Dimer in Canines is useful for:
Diagnosis of Systemic Thrombosis
Diagnosis of Canine Pulmonary Thromboembolism
Diagnostico de Coagulación intravascular Diseminada (CID)
Seguimiento de terapia antitrombótica
Predicción de supervivencia
Troponin I (TnI)
Troponin is composed of 3 subunits (I, T, and C), whose function is to activate muscle contraction by the cardiomyocyte; It is for this reason that TnI is a highly specific biomarker of cardiac damage in dogs. Cardiac damage immediately releases TnI into the circulation, and its concentration is highly correlated with the severity of cardiac involvement.
Increases according to severity of Mitral Valve Disease (MMVD)
Detects early stages of dilated cardiomyopathy (DCM)
Useful to predict evolution of patients with heart damage.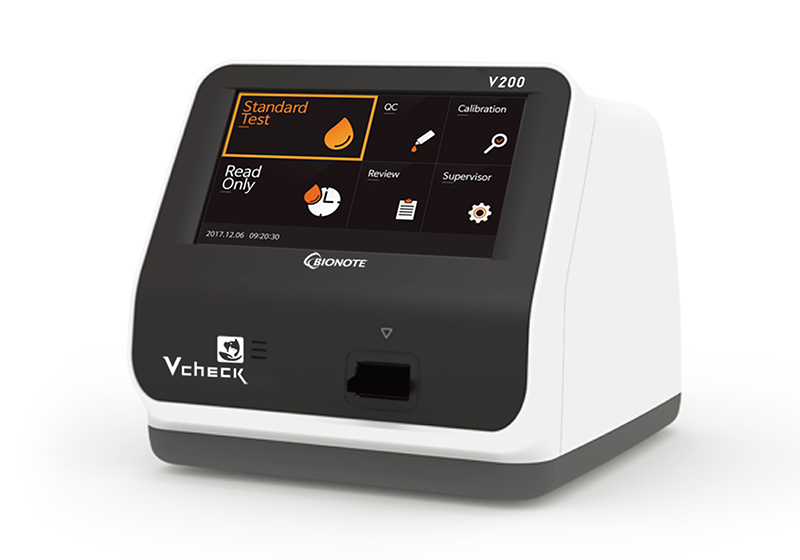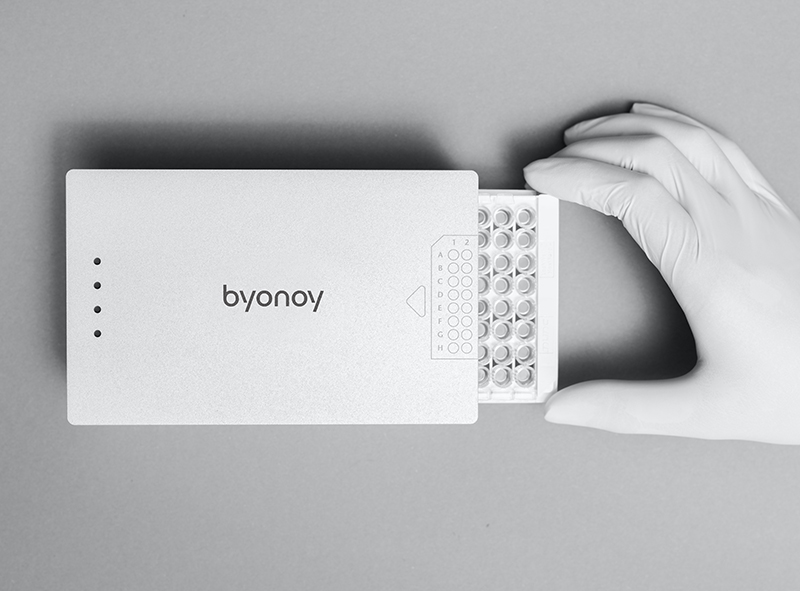 Absorbance 96
The BYONOY company from Germany has entrusted us with the distribution for Central America of this new Absorbance Reader equipment, the only real portable equipment in the world.
Description
The Absorbance 96 is a microplate reader for 96-well format assays. With a unique design, it is the most compact plate reader on the market, offering precise and accurate results at an affordable price. Coupled with BYONOY's proprietary software, the Absorbance 96 is ideal for a variety of applications, from ELISA assays to protein and cell assays.
Characteristics
It has no mechanical parts; this makes its maintenance minimal. It can be easily transported between or intra-laboratories without any risk.
"Plug & Play": If your computer equipment already has the software installed, just by connecting the equipment to the USB port, it is recognized and it is operated immediately
Its minimalist design and light weight (0.9 kg) allow you to accommodate it in any space in the laboratory. It is 7 times smaller than the best team in the competition
Fast reading: Average of 5 seconds per 96-well plate.
Compatible with iOS and Windows operating systems.
It is used for ELISA tests, Protein Assays, Cell-based Assays, ABTS, OPD, TMB, among other functions
Excellent price
S-FLOW READER
For ProGnosis BIOTECH® Lateral Flow (Immunochromatography) tests, we have available the compact S-FLOW READER equipment, for rapid reading of strips from the SYMMETRIC® line, which together with the specialized software developed reduces human error in the interpretation of results. , as well as the storage of results for later review.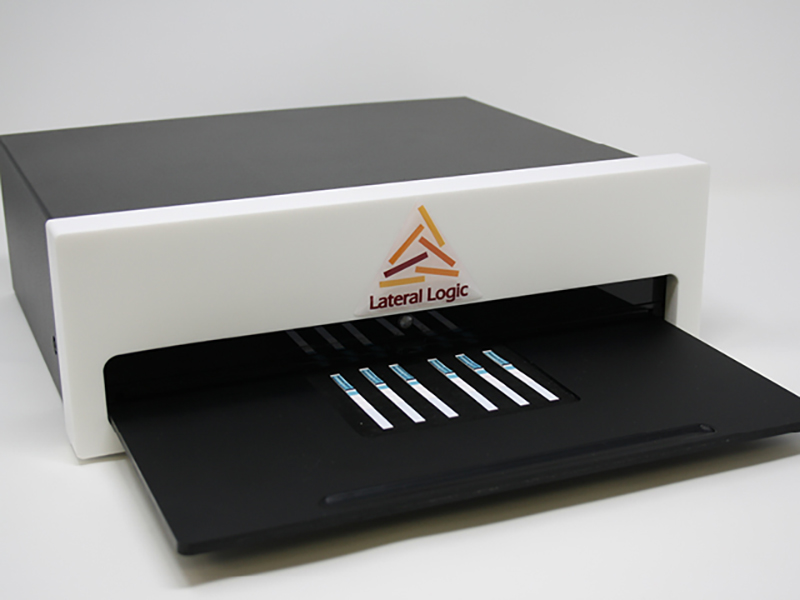 Bioadvance Centroamérica S.A.

(+506) 4000 1211
Santa Ana, San José, Costa Rica